ROBOT FIGHT NIGHT: SEASON 2 (the electric boogaloo)
--
it's truck month. it's truck month. it's truck month. it's truck month. after the sorta mess of robot fight night season 1 back in 2017-2018, robot fight night is back babey, and hopefully without too much bs stalling and other shenanigans. because why?
it's truck month.
also robot fight night season the second but you get the deal. lmao
--
TOURNAMENT INFO
everyone enters three robots, one being a Lightweight (60 US Pounds/27.20kg), Middleweight (120 US Pounds/54.5 Kilograms), and the other being a Heavyweight. (220 US Pounds/100 Kilograms) they will have to assign 30 points between 5 stat categories, those are being
Speed
,
Traction
,
Torque
,
Weapon
, and
Armor
.
a la ROBOTS, there's a soft 400 word RP limit put in place. keep it quick and simple without going into rocket surgery and other meaningless technobabble. don't be an excessive dick, dont whine in the discussion thread, you know the deal. because if you do, there will be a humorous disqualification that will detail thom yorke--the lead singer of the english experimental rock band radiohead, dragging your robot down to jacksonville, florida. and i don't think anyone wants that here.
we will also be following the
Official ARC Ruleset
, which you can read up
HERE
. it's pretty standard stuff as far as battly bot bois go so don't sweat it too much.
the ROBOT4 repeated hits damage rule will also apply here, from the words of gabe:
If Your Weapon equals your opponent's Armor, you will still be able to break through that armor in 12 hits. For every point of weapon you are below their armor, it will take 2 additional hits. For every point of weapon you are above their armor, it will take less hits to puncture an opponent's armor, as noted here:
damage: 0>1>2>3>4>5>6
hits: 12>10>8>6>4>2>1
These rules are guidelines for the approximate time it will take you to destroy a single location on your opponents: situations in-match may adjust the exact numbers, and if yall flame writers for not saying the exact numbers of hits and shit, don't expect to get away with it.

Flails will not benefit from repeated hits.
the current signup deadline is
May 10th, 2020.
this may vary depending on how many people sign up for this tournament, and how many writers will be on the team here. i will not be writing bc im going to keep it real with you chief, i trust myself to do alot of behind the scenes organizational work, but i cant be committed to write up results because that's where my energy says "fuck work".
the event will start on
September 2nd, 2020.
lmao
THE ARENA
Goofy's Gladiator Pit
because locating stuff in providence, rhode island always works, right?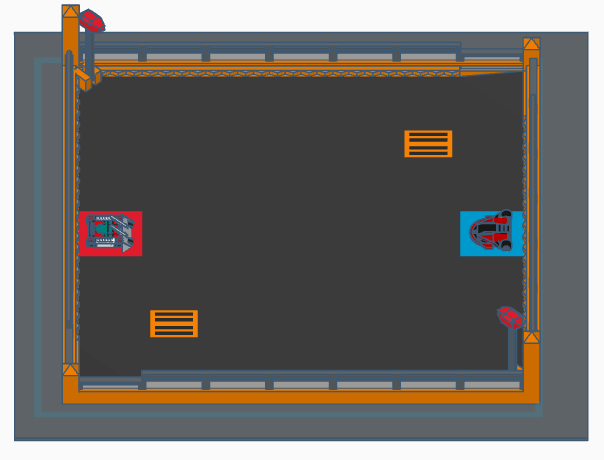 Lotus Flower and Neophyte redglare compare the middleweight sizes in the starting squares to show off the scale of Goofy's Gladiator Pit. imagine there's lexan paneling outlining the exterior of the arena surrounding the OOTA pit because i cannot be arsed to CAD it up atm.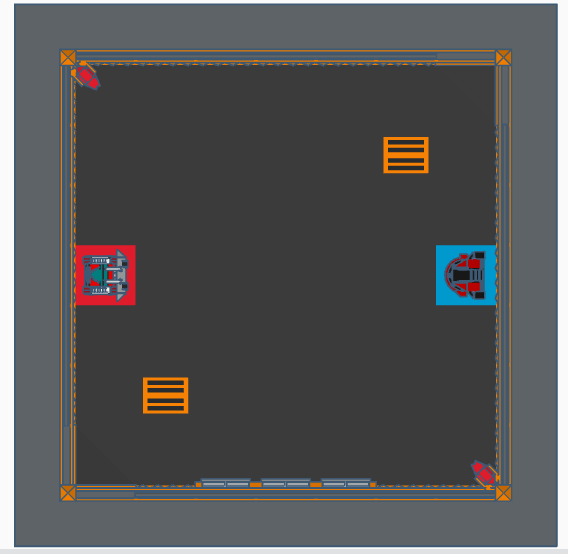 hazards depicted under the cut, alot of images so watch out lmao

the hazards also include, but are not limited to, the time-honored killsaws. if you watch battlebots, you know how these work. the killsaws do a pretty gnarly 7 points of weapon damage once they're up and out, so you want to keep an eye out for them this time around. the killsaws are active throughout the match too, by the way!

there are also angled wedges in the floor in the corners of the arena. these serve as points to high-center and pin your opponent. oh yeah, the OOTA walls are also a thing too here--the main OOTA walls that surround most of the arena means that a decent 6-7 power flipper can get a good sure-shot flip out of bounds here. while the lower OOTA walls that surround the angled wedges in the corner means that a lower power flipper around 3 or so can get a strike out of bounds.

the wall drum is also a thing here, throughout most of the match it does a decent 5 points of weapon damage, and serves as a pinning point. however, when there's a minute left in the fight, the wall drum cranks up it's power to deal 11 points of weapon damage to a robot, so watch out!

and finally last, but not least--another time honored favorite are the Big Time Hammers. or pulverizers. both work. they feature a specialized head that's optimized for both blunt damage, and piercing damage too. the Big Time Hammers deal 5 points of weapon damage upon impact, and have a 2 second cooldown.
--
WRITING TEAM AND ENTERED TEAMS
Writing Team

1. Shaba117
2. Billy5545
3.
4.
5.
6.
--
Lightweights
1. Sylandrophol + Team Foxtrot Uniform -
Moby Klick
2. hide + Team C/D -
3. YSMQTHLQYH + Team Design Flaw -
Teutonic Knight
4. V900 + End Of The Line LLC -
5. Shaba117 + Team Stealth Productions -
6. Madman + Tartarus Robotics Group -
Krakatoa
7. attackfrog + Aquatic Robotics -
8. Billy5545 + Team Eagle Robotics -
9. Horray For Lexan + Team Instant Regret -
10. NoiseyGiraffe + Square GO Robotics -
11. patrickrowberry + Team Cardboard Pony -
Through Meme's And The Wedges
12. carpedav000 + Team Carpedav000 -
Murderfuck
13. Tcrr + Code Pink Robotics -
Moldy Sponge
14. Botomatic1000 + Team Riptide -
15. British-Robotics + British Robotics -
16. GF93 + Ice Cubed Robotics -
[RESERVE] Rocket + Team Worst Swordsman -
Trilobite 2
--
Middleweights
1. Sylandrophol + Team Foxtrot Uniform -
King Caiman
2. hide + Team C/D -
3. YSMQTHLQYH + Team Design Flaw -
Stardust Reverie
4. V900 + End Of The Line LLC -
5. Shaba117 + Team Stealth Productions -
6. Madman + Tartarus Robotics Group -
Sundancer
7. attackfrog + Aquatic Robotics -
8. Billy5545 + Team Eagle Robotics -
9. Horray For Lexan + Team Instant Regret -
10. NoiseyGiraffe + Square GO Robotics -
11. patrickrowberry + Team Cardboard Pony -
Missing The Point
12. carpedav000 + Team Carpedav000 -
D.generacy
13. Tcrr + Code Pink Robotics -
Hurricane 2 (The Flippening)
14. Botomatic1000 + Team Riptide -
15. British-Robotics + British Robotics -
16. GF93 + Ice Cubed Robotics -
[RESERVE] Rocket + Team Worst Swordsman -
Verdigris
--
Heavyweights
1.Sylandrophol + Team Foxtrot Uniform -
Instant Milkshake
2. hide + Team C/D -
Blockade
3. YSMQTHLQYH + Team Design Flaw -
Omnicrap 3.0
4. V900 + End Of The Line LLC -
5. Shaba117 + Team Stealth Productions -
6. Madman + Tartarus Robotics Group -
Hellhound VII
7. attackfrog + Aquatic Robotics -
8. Billy5545 + Team Eagle Robotics -
9. Horray For Lexan + Team Instant Regret -
10. NoiseyGiraffe + Square GO Robotics -
11. patrickrowberry + Team Cardboard Pony -
U Flip
12. carpedav000 + Team Carpedav000 -
Wasp 3
13. Tcrr + Code Pink Robotics -
Swamp Thing 1.5
14. Botomatic1000 + Team Riptide -
Xtreme PneumatiX
15. British-Robotics + British Robotics -
16. GF93 + Ice Cubed Robotics -
[RESERVE] Rocket + Team Worst Swordsman -
Tabor Mark 5
--